This is a shared community resource that benefits everyone. So please treat each discussion and interaction with respect and offer feedback always in a constructive manner. Discussions and posts created with the intention to create a strong negative or emotional reaction are prohibited. Let's keep things positive!
Cases in which topics or comments should be reported:
Spam
Advertisement
Soliciting
Harassment
Private information (Email address, phone number, etc.)
Any other content which is in conflict with our Rules & Regulations
If you come across a topic or a comment that you think needs to be reported, please click on the three dots on the bottom right of a post, and click on "Flag". Our team will then review the content and take the necessary action.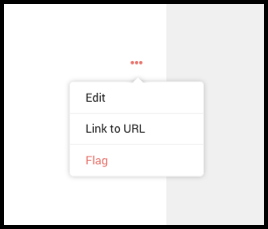 If you should be uncertain whether or not you should report a topic or a comment, then you can go ahead and report it. A Moderator will check your report as soon as possible and will decide further steps if necessary.